Hello, everybody! Welcome to 2012. Jess is asleep on the couch in front of me after a hard night of partying with our bros, and I'm running on six pitiful hours of sleep. What better time to cast a groggy mind back across the year that was? Let's fire up the Retroscope and sort through the best of two thousand and eleven.
Wedding of the Year
Ours, naturally: on July 6 this year (our fifth anniversary of being together), Jess and I were married at St. Matthews Anglican Church, in Guildford! It was a fairly small affair with only 50-odd people but it was totally amazing, and went off without a hitch (aside from the bit where we actually got hitched). You can see some photos of the event
right here
.
The night before the wedding, my brother Simon threw me a buck's night at his house. As I don't drink and am not into strippers, he decided to put me through a punishing series of Manliness Tests instead. These ranged from mowing his lawn, to cooking a ham and cheese sandwich on the barbeque (surprisingly difficult), to explaining exactly how a car worked (sorcery?) to smashing pieces of concrete. With my very own personalised, engraved sledgehammer.
My final score was a very acceptable 435 out of a possible 550, and Simon presented me with my very own "Approved for Marriage" certificate. Which I promptly accidentally left somewhere at the church and lost forever. Thanks Simon!
Honeymoon of the Year
This one has to go to ours as well! Gosh, these awards are a bit one-sided. A few months after the wedding, we took off for the United Kingdom where we spent a couple of weeks jaunting through the various locales. Starting in
London
, we moved up through
Manchester into Scotland
, and from there across to
Ireland
, back down through Ireland across to
Wales
, then a few more days
with the extended family in England
before jetting off to spend the last few days of the trip
in Leipzig, Germany
with Jess's brother Chris and his wife Hannah.
All told it was a bit more rushed than we'd have liked, and we ended up with some staggering roaming bills from Telstra due to the apparently mistaken belief that Google Maps wasn't that data heavy. But overall it was an amazing experience – the first time Jess had ever been overseas, in fact! – and gave us a great tasting plate of the UK to return to later. We also got to meet some lovely people and eat some lovely food. Also, some awful food. I'm looking at you, any-and-all Indian restaurants in the UK.
We fell absolutely in love with Scotland, and now plan to return there at some point and buy a cottage to live in. This plan is tentatively known as "Operation: Scottage".
Minimoon of the Year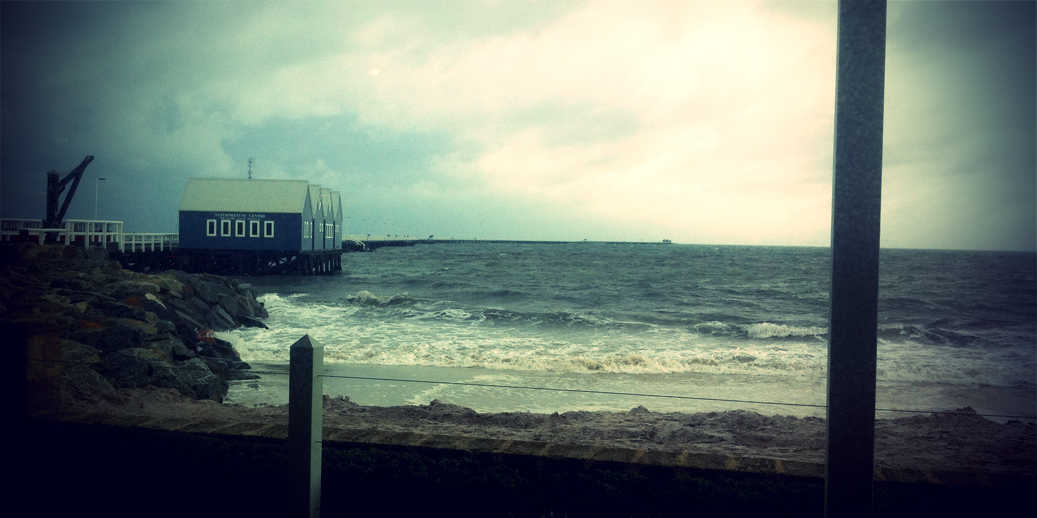 In August we managed to sneak down to Busselton for a few days of quiet relaxation at a lovely little chalet by the beach. It was beautifully cold and lusciously green (although not, we would discover later, as green as anywhere in Scotland). Over the weekend we sampled many handmade delights in and around the region as well as visiting our favourite Indian restaurant, which had just opened up its first expansion down there.
The picture above is us eating at The Goose Cafe on a Saturday morning. We'd planned to take a walk down the Busselton Jetty but the wind was kicking up a storm and so instead we whiled away the morning inside the beachside cafe, by a crackling fire, eating pancakes and bacon. It was amazing.
Busselton, Margaret River and indeed the whole region are absolutely gorgeous and delightful to visit, but the sheer and utter lack of anything to do after 8PM on any given night was quite pronounced. Nearly everyone we saw had cracked open some sort of booze, and in fact a charming young pair of men walked into the restaurant while we were eating actually drinking already (and carrying a six pack in the other hand) – before casually checking with the waitress if it was okay. And, you know, that's fine! If that's what you're into. But yeah, it was a bit strange to see.
Rescued Cat of the Year
Back in February – shit, almost a year ago now – we were walking home from a Comedy Night at the Charles Hotel and decided to stop in at the local petroleum dispensary for some iced cream. It was closed, alas, so we headed to Hungry Jacks nearby in the same carpark, only to find that there was a very adorable but disgustingly thin and sick-looking cat wandering around. He had a collar on and everything but no tag, and he was more than happy to eat some Hungry Jacks burger patties out of our hands and let us pick him up and pat him. After a few agonising minutes of deciding whether to get involved or not, we took him home and shacked him up in the laundry for the night.
The next day, we took him to the Cat Haven animal shelter nearby, where they told us flatly that if they couldn't find his owner within 24 hours (he wasn't microchipped), they would just put him down as it cost too much to keep him and he was too old for adoption. We were pretty disgusted by this attitude and left, taking it upon ourselves to walk the streets of Mt. Lawley, doorknocking and putting up "Found Cat" posters and so on. After six weeks or so of this with no result, my lovely ex-colleague from games.on.net, Brenna Hillier and her partner Nicole offered to take him in, and we shipped him across to Sydney to stay with them where he is now very fat and happy and gets lots of love and affection. All's well that ends well.
Most Adorable Dog of the Year
Here's our dog Rosie, carefully and lovingly patting the neighbour's dog Gugle, who came over to be babysitted while they were out for work. Pretty fucking adorable.
Gaming Website Editor of the Year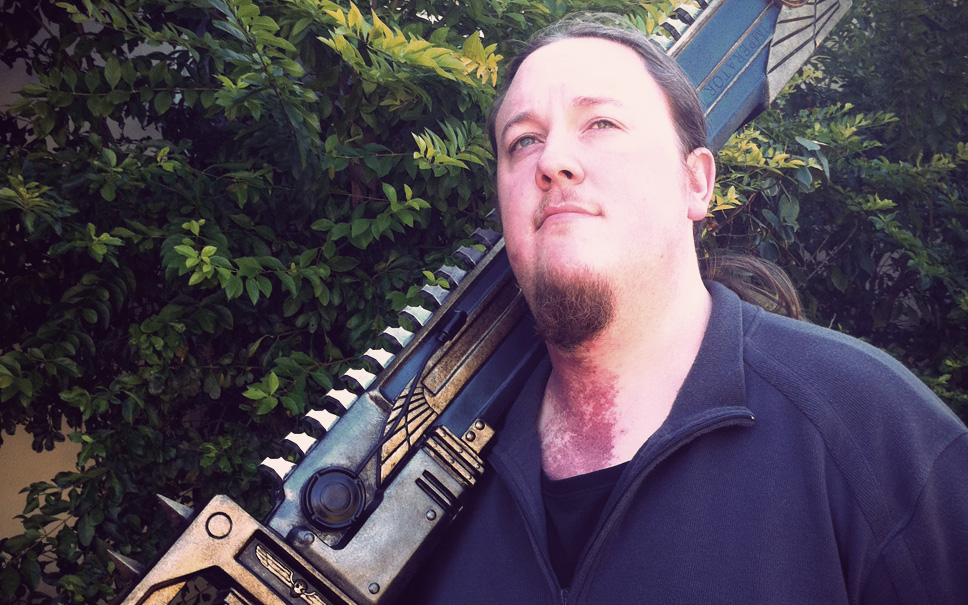 This year, when my editor Bennett Ring left
games.on.net
, he nominated me for the role of caretaker/interim editor while they searched for a new full-time editor. I gleefully put my hand up to be that editor, and was pleased as
punch
when they decided to choose me to take full-time care of the site permanently in November this year. It's basically the best job in the world, I'm not going to lie.
One of the perks of the job is that sometimes people in PR at video game companies send you nice things. Alan Moore at THQ for example sent me the one-and-a-half metre long replica chainsword from Space Marine, that you see in the above photo. He did so after ringing me up to sadly inform me that I couldn't have one as they were exceptionally limited, so needless to say I flipped out like an excited schoolgirl when it showed up at the door. What a delightful troll he is.
Best Invented Food of the Year
Taco Salad. Make tacos as usual (in our case, per the directions on the Old El Paso taco kit), except replace "taco shells" with "bed of corn chips". Adorn with toppings and serve, shoveling the ingredients into your face at high speed.
Best Music of the Year
Perhaps a fairly farcical topic for me to discuss as I have all the tonal sensitivity of a tub of yoghurt, but it's been a pretty musical year for me! I not only purchased a CD (just one, mind you) but even went to a
music festival
for the first time in living memory.
John
and I spent a delightful afternoon at Groovin' the Moo in Bunbury which, despite the overhanging aroma of cooking cow pats and the tendency to be happily hugged by drunk bogans, was a pretty awesome experience. The highlight of the afternoon was of course Gotye, whose new album
Making Mirrors
also came out this year (predictably, it was the one I purchased).
As far as iTunes is concerned, my number one most-played non-Gotye song of the year is "Focus" from the Frozen Synapse soundtrack. So I've embedded that above for you. As far as the internet is concerned however, the number one hit of the year is of course "Snakes", recorded by MC Chilly J and remixed by Jess. It's probably the best song ever made. Listen to it here (or download it here as an iPhone ringtone).
Best Tweet of the Year
Jess: What should I call my horse in this game?
Me: How about "Sparkle Princess Pony Blossom"?
Jess: Too late, I've called it "Horselegs"
Best Concluding Paragraph of the Year
Thanks for a great 2011, everybody! It's been up, down, and shaken all around. Here's to more frequent and less erratic blogging, continued health and happiness, and having another puppy to add to our family. We'll be picking this little girl up some time in February. Isn't she adorable?